Another show bites the dust as BWGP again packs 'em in at Bimbo's -- (but as insurance we shamelessly add marriage proposals and kids on stage to our show)
Well, we somehow pulled off another one...

We want to thank everyone who was there (and even if you weren't) for being part of Butch Whack's latest fantastic and fun annual Bimbo's soiree over the nights of June 26-28. (We hope to have some photos and video up on our website soon, so check back for that.) Three packed nights with good friends, good fans, good tailgate parties and good tunes -- you can't beat that. Unless you want some more music which you can get this Sunday when Butch and the boys play for the first time at one of

Rancho Nicasio's famed Sunday barbecues

. (see below for more details.)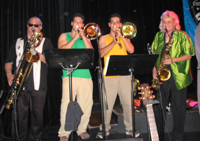 This year's Bimbo's show had a couple of new elements. Not only did three of our original members -- Walt Quinn, Dan Ritzo and Bruce Lopez -- return to the fold for the first time in many years (with Bruce's sons, Buddy and Christian, playing some mean trombone during our dance set -- joined by drummer Mike Moore's son, Mickey -- on drums when his dad went to the front of the stage).


We also had the band's first ever on-stage marriage proposal -- with Julio Lopez's daughter

Annemarie

getting put on the spot (in front of over 500 people) by her long-time boyfriend, Julio. (photo right) Luckily she said yes, or we were going to have one long awkward dance set.

That was just the beginning of an exciting two weeks for Julio and his wife Debbie as they became grandparents for the first time - as his son Nick helped present him with new grandaughter Giovanna Jenelle Lopez (baby Joey for short) who made her debut last week.

So for those of you who can make the Rancho Nicasio gig, Julio will be the one with the big chest sticking out.

Butch Whacks to play Sunday BBQ at
Marin's historic Rancho Nicasio
Butch Whacks and the Glass Packs will be playing their inaugural gig at the historic Rancho Nicasio Restaurant and Bar, located in the quaint town of Nicasio in West Marin, Sunday July 20th!

BWGP is part of the Rancho's "Summer Sunday Barbecues on the Lawn" Series which feature some of the best, most fun as well as most diverse bands around -- outdoors and in a picnic-like setting.
"Butch" will hold forth for two (2) long dance and party sets, beginning at 4PM--doors open at 3PM....
You can graze on BBQ backed with your favorite beverage amid the grounds of a genuine historic roadhouse. For more info, call (415) 662-2219; or better yet, go to www.ranchonicasio.com for tickets and more background on this beautiful venue...
Other acts who've appeared or will appear at Rancho Nicasio include Pablo Cruise, Booker T (of the MGs fame), Paul Thorn and Asleep at the Wheel.

Butch Whacks fans, this a great opportunity to see us up-close and personal!

Glass Packs sax player Morey G passes away
Butch Whacks sax player Morey Goldstein, passed away last week, after a long bout with brain cancer. Morey's wife Katie said he passed quietly, very peacefully -- he stayed around long enough for us to get used to the idea of him leaving, then he was ready to move on. But first, Katie added, Morey waited until the Butch Whacks show at Bimbo's was completed.
This was not surprising to us. Morey never missed a cue.
Katie wanted us to thank everyone in the Butch Whacks family of fans and friends "for all your loving support."
---
When a band has 37 years of history and bad jokes, you have to store it somewhere. And a lot of it is at www.butchwhacks.com. Learn a little bit about band members, a skewed history of the band, see some old photos which we probably should burn, and even see some of our old bits. We're actually learning how to do much of this ourselves, so we'll even do a better job of keeping you posted on what's happening (although bear with us - sometimes we have to have our teen-age kids shows us all these internet tricks).
---
LINKS


ButchWhacks.com

Butch Whacks
June 11, 2008 email

Butch Whacks
May 15 email

Butch Whacks
May 5, 2008 email

Bimbo's

Rancho Nicasio

Throckmorton's